La Guyane renforce sa place sur le marché de l'éco-tourisme
Pour M. Jean Luc LE WEST, Président du Comité du Tourisme de la Guyane, une présence à IFTM Top Resa est une nécessité après deux ans de crise sanitaire. Notamment pour permettre aux professionnels de mieux appréhender la destination.

En quoi est-il important pour la Guyane d'être présente à IFTM ? Quel message apportez-vous aux professionnels du tourisme ?
Après deux ans de crise sanitaire, il me semble important que la Guyane participe au salon IFTM Top Résa pour retrouver sa place sur le marché des voyages éco touristiques. La Guyane est une destination de niche, dotée d'une biodiversité exceptionnelle ; c'est le moment de porter un regard différent sur ses atouts naturels encore assez méconnus des professionnels du tourisme.

La destination est dotée d'une nature généreuse et hors du commun. Mon message à tous les amoureux de grands espaces est donc de choisir l'Amazonie française pour des vacances dépaysantes. C'est ici que le plaisir de respirer un air pur à plein poumons est garanti : tout est réuni pour favoriser un sentiment de bien-être et de lâcher prise.


Quelle est votre stratégie globale ?
Nous devons composer avec cette pandémie mondiale encore quelque temps. Ce qui nous a conduits à réorienter notre stratégie de développement touristique en privilégiant deux axes : le marché "intra Guyane", pour que tous les habitants puissent s'approprier le tourisme ce qui nous permet également de perfectionner l'accueil des visiteurs de passage, tout en repartant à la conquête des marchés européens limitrophes de la France tels que la Belgique, la Suisse, en plus de redynamiser le marché métropolitain émetteur. Aujourd'hui encore 90 % de nos touristes viennent de Métropole.

Les conditions sanitaires normées dont nous bénéficions, outre les atouts déjà évoqués, contribueront à positionner la destination durablement sur ces marchés exogènes. Notamment face à la concurrence des destinations d'Amérique centrale et du sud.

Quels thématiques et produits souhaitez-vous mettre en avant sur le salon ?
Notre destination possède un inestimable patrimoine naturel : 740 espèces d'oiseaux, 188 espèces de mammifères pour ne citer qu'eux. Le tout abrité dans 8 millions d'hectares de forêt, dont une grande partie est préservée. Nous possédons des réserves naturelles terrestres uniques au monde, un vaste parc national et des parcs naturels régionaux. L'Amazonie et ses richesses sont accessibles en Guyane, il est facile de partir à la découverte de cette faune et de cette flore sauvages lors de séjours au cœur de la forêt, en bord de mer ou lors de randonnées pédestres ou nautiques.

Le tourisme de découverte est-il ouvert à tous types de touristes?
Contrairement aux idées reçues, il n'est pas nécessaire d'être un baroudeur intrépide ou un sportif accompli pour s'immerger dans la nature guyanaise. Dormir dans des campements touristiques appelés "carbets", s'enfoncer au cœur de l'Amazonie accompagné de guides expérimentés, vos clients ressentiront toute l'essence de la Guyane lors d'une expérience inoubliable. Les acteurs du tourisme guyanais présents au salon IFTM Top Resa aux côtés du Comité du Tourisme de la Guyane répondront avec plaisir à toutes les questions sur les modalités de voyages et les activités à faire sur place.
Photo: M. Jean Luc LE WEST, Président du Comité du Tourisme de la Guyane © ctguyane
STAND 1 – F071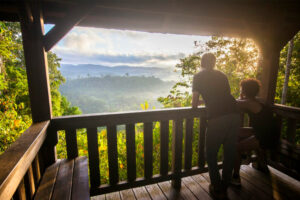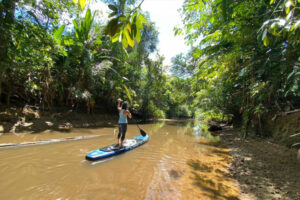 ---
Guyana reinforces its place in the eco-tourism market
For the new President of the Tourism Committee of Guyana, Jean Luc Le West, the presence at IFTM Top Resa is a necessity after two years of health crisis. In particular, to enable professionals to better understand the destination. We asked him why it was so important for Guyana to be present at IFTM, and what message he brings to tourism professionals.

After two years of health crisis, it is important for Guyana to participate in IFTM Top Resa in order to regain our place on eco-tourism travel market. A niche destination, endowed with an exceptional biodiversity, it is the time to take a different look at its natural assets still little known by tourism professionals.
Indeed, our destination boasts a generous nature and "out of the ordinary" experiences. Therefore, my message to all lovers of large spaces is to choose the French Amazon for an exotic holiday. It is here that the pleasure of breathing pure air is guaranteed, and everything is brought together to foster a feeling of well-being and letting go.

What is your overall strategy?
We are facing this global pandemic for some time to come. This has led us to reorient our tourism development strategy by focusing on two axes: the "intra-Guyana" market, so that all residents can appropriate tourism. This also allows us to improve the welcome for the other visitors. We are setting out again to conquer the European markets bordering France such as Belgium and Switzerland, in addition to revitalising the French metropolitan market. Today, 90% of our tourists come from mainland France.
The standard of health conditions we enjoy, in addition to the advantages already mentioned, will help to position the destination on these exogenous markets on a sustainable basis, especially in the face of competition from other destinations in Central and South America.


What themes and products do you want to highlight at the show?
Our destination has an invaluable natural heritage: 740 bird species, 188 mammal species to name a few. All sheltered in 8 million hectares of forest, a large part of which is preserved. We have unique terrestrial nature reserves, a vast national park, and regional nature parks. The Amazon and its riches are accessible in Guyana. It is easy to go out and discover this wild fauna and flora during stays in the heart of the forest, by the sea or during hiking or water excursions.

Is "discovery" tourism open to all types of tourists?
Contrary to popular belief, you don't have to be an intrepid adventurer or an accomplished sportsman to immerse yourself in the Guyanese nature. One can sleep in tourist camps called "carbets". With immersion in the heart of the Amazon accompanied by experienced guides, your customers will feel all the essence of Guyana during an unforgettable experience. The Guyanese tourism stakeholders present at IFTM Top Resa alongside the Tourism Committee of Guyana will be pleased to answer all the questions about the travel arrangements and the activities to be done on site.
STAND 1 – F071
Photo: M. Jean Luc LE WEST, President of the Tourism Committee of Guyana © ctguyane