La joie de raviver les contacts humains
Interview: Frédéric Lorin, Directeur IFTM Top Resa et Directeur de la Division Tourisme RX France
Le retour d'IFTM Top Resa en ce mois d'octobre 2021 à Paris Expo était attendu par tous les professionnels du tourisme après plus d'un an et demi de pandémie. L'occasion pour Frédéric Lorin, Directeur IFTM Top Resa et Directeur de la Division Tourisme RX France, de parler de ses motifs de satisfaction…

Dans quel état d'esprit vous trouvez-vous avec ce retour d'IFTM Top Resa?
Je suis partagé entre plusieurs sentiments. Le premier, le plus fort évidemment, est un sentiment de joie. Joie de se retrouver dans un événement en présentiel, joie de regarder les gens les yeux dans les yeux, de sentir le contact de nos interlocuteurs. L'homme est un animal sociable. C'est dans son ADN. Nous avons tous une envie incroyable de nous retrouver après cette crise. S'y mêle aussi pour moi un sentiment de frustration. Sentiment qui vient de l'absence de zones géographiques entières, toujours affectées par le virus. Du coup, cette édition 2021 sera plus modeste par sa taille. Mais j'ai là aussi un sentiment de contentement. Car ce salon sera de nouveau représentatif de toutes les tendances qui font le voyage. Loisirs, France et même le voyage d'affaires. Contrairement à ce que l'on aurait pu imaginer, le Village Club Affaires a fait le plein. On aura 32 exposants, soit deux de plus qu'en 2019 !


Qu'est-ce qui vous a le plus manqué après un an d'absence ?
C'est réellement le contact physique. A plus forte raison parce que ce secteur d'activités est basé avant tout sur le rapport humain. On a besoin de se rencontrer car on ne fait pas que du business par e-mail ou vidéo. Un salon, ce sont des surprises faites de rencontres au détour d'une allée, de sympathies qui se nouent. Cela fait partie de l'essence d'un tel événement…

Quels sont vos objectifs chiffrés pour cette édition ?
On a fait feu de tout bois pour motiver les professionnels, notamment avec un plan de transport et d'hébergement, et je suis confiant que cela va porter ses fruits. En parallèle, les exposants ont répondu présent, encore plus que ce que j'estimais. Nous avons, entre autres, une belle présence française, de l'Europe, des pays du bassin méditerranéen et des Caraïbes.

Y'aura-t-il des nouveautés sur cette édition 2021 ?
Nous offrons pour la première fois un Lounge VIP pour les agents de voyages – un espace qui leur est totalement dédié. Nous mettons également en avant la France, en organisant une journée entière de conférences pour la destination France, et, bien sûr, à travers notre "Région à l'Honneur", la Corse.
---
Des agents de voyages traités en VIP
Ils pourront s'y détendre, prendre une boisson, y laisser leurs affaires, consulter leurs mails. "Ils", ce sont les agents de voyages qui bénéficient pour la première fois d'un véritable VIP Lounge. "J'ai toujours pensé que les vrais VIP d'IFTM Top Resa sont les agents de voyages car ce sont eux qui finalement font en très grande partie fonctionner l'industrie des voyages. Beaucoup avaient exprimé leur frustration de ne pas avoir un lieu où ils puissent se poser. Je suis très à l'écoute des agents. Et je suis ravi que nous ayons avancé avec ce lounge. Qui restera !", décrit Frédéric Lorin.
---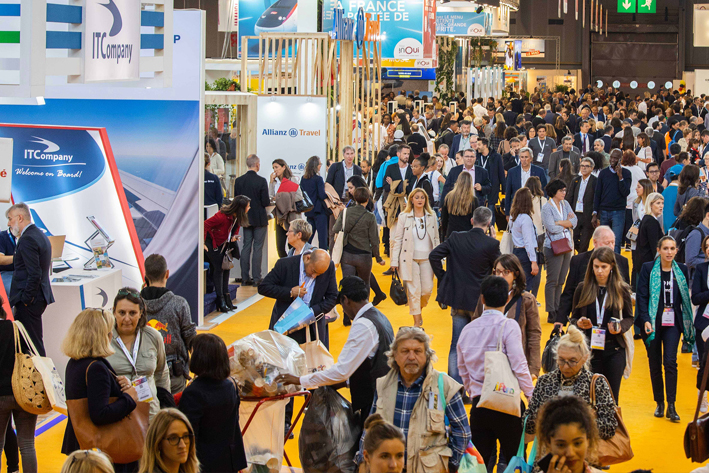 ---
The joy of rekindling human contacts
Interview: Frédéric Lorin, Director IFTM Top Resa and Director, Tourism Division, RX France
The return of IFTM Top Resa in October 2021 to Paris Expo has been much awaited by all tourism professionals after more than a year and a half of pandemic – an opportunity for Frédéric Lorin, Director of IFTM Top Resa to talk about his reasons for satisfaction. We asked him what mind-set he is in with the comeback of IFTM Top Resa.

I share many feelings. The first, the strongest of course, is a feeling of joy – joy to be in a face-to-face event, joy to look people in the eye, to feel the contact with others. Man is a social animal. It's in his DNA. We all have an incredible desire to be together after this crisis. For me, too, there is a sense of frustration. It's a feeling that comes from the absen
ce of entire geographical areas, still affected by the virus. As a result, this 2021 edition will be more modest in size. But I also have a feeling of contentment, because this show will again be representative of all the trends that make up the travel industry. Leisure, France and even business travel. Contrary to what we could have imagined, the Business Travel Village Club is full. We will have 32 exhibitors, two more than in 2019.


What did you miss most after a year of absence?
It is really the physical contact. Especially because this sector of activity is based primarily on human relationships. We need to meet because we don't just do business by e-mail or video. A trade show is made up of surprises; of chance encounters at the corner of an aisle, of empathies that are kindled. It's part of the essence of such an event.

What are your quantified objectives for this 2021 edition?
We are pulling out the stops to motivate professionals, especially with a transportation and accommodation plan, and I'm sure this will pay off. In parallel, the exhibitors are there; even more than I thought. We have a great presence from France, Europe, the Mediterranean basin and the Caribbean, among others.

Will there be anything new on this 2021 edition?
This year we are launching the VIP Lounge for travel agents – a space dedicated to them, allowing them to rest, relax and meet up. We also put France in the spotlight, by organising a full day of conferences on the destination France, and, of course, through our "Region of Honour", Corsica.

---
Travel agents receive VIP treatment
They can relax, have a drink, leave their belongings, check their emails. "They" are the travel agents who benefit for the first time from a real VIP Lounge.

"I have always thought that the real VIPs of IFTM Top Resa are the travel agents because they are the ones who for the most part ultimately make the travel industry work. Many expressed their frustration at not having a place where they could land. I am very attentive to the officers. And I am delighted that we have made progress with this lounge, which will stay," said Mr Lorin.
---
Photo: © Maya Angelsen