La Martinique : l'excellence toujours !
Interview : Bénédicte di Géronimo, nouvelle Présidente du Comité Martiniquais du Tourisme
PUBLIREPORTAGE
Bénédicte di Géronimo est depuis juillet à la tête du Comité Martiniquais du Tourisme. Nommée en pleine crise sanitaire, cette élue souhaite élargir le rayonnement mondial de la Martinique. Avec un objectif, que le tourisme en Martinique retrouve au plus vite sa situation d'avant-crise.

Que représente votre nomination comme Présidente du Comité Martiniquais du Tourisme et quelles sont vos premières décisions ?
C'est un honneur de prendre mes fonctions à la présidence du Comité Martiniquais du Tourisme. Le tourisme, vecteur clé pour stimuler la relance économique du territoire, rencontre une période charnière. Nous préparons donc la sortie de crise avec tous les professionnels du tourisme. Nos entrepreneurs du tourisme en Martinique ont mis à profit la crise sanitaire pour améliorer les infrastructures, moderniser leurs activités. En un mot, se réinventer. Ma priorité est que la Martinique vise plus que jamais l'excellence !

Quels atouts souhaitez-vous mettre en avant ?
L'hospitalité, la convivialité des Martiniquais, la culture de l'île, son patrimoine préservé, la diversité de ses activités, au cœur d'une nature envoûtante et de plages de rêve, constituent les atouts majeurs de la Martinique.


Parlons justement de la Martinique comme destination nature. Quels sont ses points forts ?
Notre nature est au cœur de notre vie ce qui a permis la reconnaissance par l'UNESCO de l'ensemble de notre territoire terrestre et marin comme Réserve Mondiale de Biosphère. La France a aussi demandé le classement au patrimoine mondial des volcans et forêts de la Montagne Pelée et des Pitons du Nord de la Martinique, site faisant partie des 35 hotspots mondiaux.

Comment accompagnez-vous les prestataires en Martinique et les vendeurs de la destination ?
Dans la continuité des campagnes passées (TV, radio, digital), nous participons à des événements B2B comme IFTM Top Resa et aux grands événements comme la Transat Jacques Vabre. Nous mettons également en place des outils pour booster les ventes des professionnels. Ainsi, le Comité Martiniquais du Tourisme lancera dès le mois de novembre une plateforme de formation en ligne E-Learning à la disposition des professionnels du secteur.

Qu'attendez vous de cette édition IFTM Top Resa ?
Nous voulons d'abord rappeler que la Martinique est toujours là, qu'elle est accessible, attachante, incontournable. IFTM TOP RESA est une excellente opportunité.
STAND 1 – K27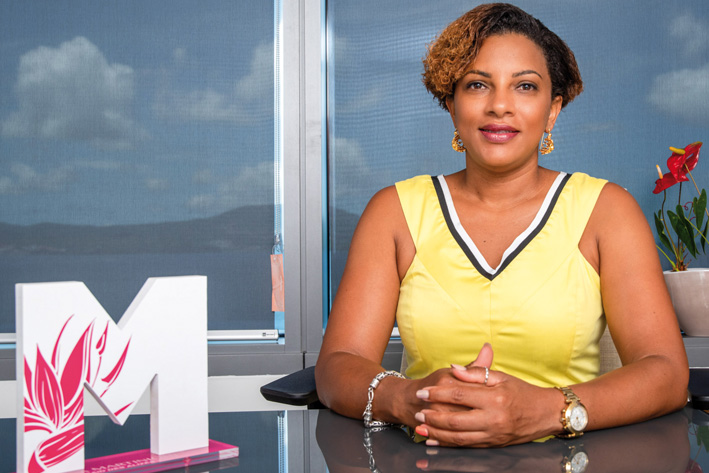 Bénédicte di Géronimo
Présidente du Comité Martiniquais du Tourisme
President, Comité Martiniquais du Tourisme
---
ADVERTORIAL
Martinique: Excellence, as always
Interview: Bénédicte di Géronimo, New President, Comité Martiniquais du Tourisme
Since July, Bénédicte di Géronimo has been head of the Martinique Tourism Committee. Named in the midst of a health crisis, this elected official wants to expand Martinique's global reach. Her goal is that tourism in Martinique quickly finds its pre-crisis situation.

What does your appointment as President of the Comité Martiniquais du Tourisme represent and what are your first decisions?
It is an honour to take up my position as President of the Comité Martiniquais du Tourisme. Tourism, a key vector for stimulating the economic revival of the territory, is in a pivotal period. We are therefore preparing the way out of the crisis with all tourism professionals. Our tourism entrepreneurs in Martinique have taken advantage of the health crisis to improve infrastructure and modernise their activities. In a word, reinventing themselves. My priority is that Martinique strives for excellence more than ever!

What assets do you want to highlight?
The hospitality, the conviviality of Martinique, the culture of the island, its preserved heritage, the diversity of its activities, in the heart of a bewitching nature and dream beaches; these are the major assets of Martinique.
Let's talk about Martinique as a nature destination. What are its strengths?
Our nature is at the heart of our life, which has enabled UNESCO to recognise our entire land and sea as a World Biosphere Reserve. France has also asked for the volcanoes and forests of Mount Pelee and the Pitons of Northern Martinique, a site that is part of the 35 world hotspots, to be placed on the World Heritage List.

How do you accompany service providers in Martinique and the sellers from the destination?
In the continuity of past campaigns (TV, radio, digital), we participate in B2B events like IFTM Top Resa and major events like the Transat Jacques Vabre. We are also putting in place tools to boost sales for professionals. Thus, in November, the Comité Martiniquais du Tourisme will launch an online E-Learning platform available to professionals in the sector.

What do you expect from this edition of IFTM Top Resa?
First of all, we want to remind you that Martinique is still here, that it is accessible, endearing, and unavoidable. IFTM TOP RESA is an excellent opportunity.
STAND 1 – K27
Photo: © CMT_TropiXPhoto