L'office de tourisme de Jordanie de retour sur la scène internationale avec IFTM
Interview exclusive – S.E. Nayef Hmeidi Al-Fayez – Ministre du Tourisme et des Antiquités, Jordanie
L'office du tourisme de la Jordanie est très présent sur IFTM Top Resa – il s'agit du premier salon international auquel il participe depuis le début de la crise de la COVID-19. Le ministre du Tourisme et des Antiquités, S.E. Nayef Hmeidi Al-Fayez, dirige une importante délégation – avec un message très clair…

Le plus important, c'est que nous soyons de retour. Sur le plan officiel, nous sommes ici, mais aussi avec le secteur privé pour que nous puissions nous rencontrer et faire avancer les choses le plus rapidement possible. Nous sommes prêts à recevoir des visiteurs du monde entier. Depuis le milieu de l'année, les gens ont commencé à revenir. Nous avons ouvert progressivement, et à la fin de septembre, tout était redevenu normal – dans cette « nouvelle » normalité. C'est notre première apparition internationale. Donc pour nous, IFTM Top Resa est un événement important. Le message à destination de l'industrie est que la Jordanie est de retour.

La France est d'ailleurs une priorité absolue pour le redémarrage du tourisme jordanien. La France a de fait gagné en importance en tant que premier marché source pour la Jordanie dans le monde post-Covid. Les ressortissants français ont ainsi été les plus grands consommateurs du "Jordan Pass" en 2021.

Vous avez eu de bonnes nouvelles cette année avec l'inscription au patrimoine mondial de l'UNESCO d'As-Salt. Dans quelle mesure cela a-t-il été important pour créer une nouvelle dynamique ?
C'est très important, parce que As-Salt est la première ville inscrite en Jordanie. Nous avons d'autres sites enregistrés au patrimoine mondial de l'UNESCO, mais c'est la première ville habitable avec ce statut. Ce n'est pas seulement dû à la beauté de la ville, mais grâce à la culture de la Jordanie. C'est donc très important pour nous.
Quelles sont les tendances en matière de tourisme à l'heure actuelle?
La beauté de la Jordanie, c'est son énorme diversité bien qu'elle soit géographiquement petite. C'est difficile de trouver autant de diversité, même à l'intérieur d'un continent. C'est un avantage clé pour le voyageur. Nous ne voulons pas que celui-ci se contente de venir voir la belle Petra, ou les milliers de sites archéologiques. Nous voulons qu'il fasse l'expérience d'innombrables autres choses, comme notre nature fabuleuse, notre bien-être et nos loisirs.

Comme vous l'avez mentionné, c'est la première fois que vous revenez en présentiel. Comment avez-vous réagi à cette présence sur l'IFTM?
Tout le monde dans le secteur du tourisme est heureux d'être ici, de se rencontrer en personne. Nous en avons assez de Zoom, de réunions en ligne et autres types d'entrevues. Nous voulons nous voir, avoir le sourire, avoir le contact visuel, les réactions. Et c'est important que ce soit l'industrie du tourisme qui le fasse, parce que l'industrie du tourisme est le pont qui rassemble les gens. C'est la raison pour laquelle nous devrions prendre l'initiative de telles activités. Jusqu'à maintenant, cela a été très positif. Le salon bruisse de monde et c'est un bon message non seulement pour ce salon, mais pour ceux à venir aussi. Il y a non seulement le monde, mais il y a aussi de la qualité. Les gens sont sérieux ici. Ils veulent faire des affaires.
---
Wizz Air lance huit nouvelles routes vers la Jordanie
Le Ministre du Tourisme et des Antiquités, S.E. Nayef Hmeidi Al-Fayez, a annoncé lors d'une conférence de presse tenue le dimanche 3 octobre 2021, la conclusion d'un nouvel accord entre le Royaume et la compagnie aérienne internationale low-cost Wizz Air. Cette dernière prévoit d'exploiter huit nouvelles liaisons à destination et en provenance du Royaume.
Les vols de Budapest, Rome, Milan et Vienne desserviront l'aéroport international Queen Alia (QAIA). Quatre lignes saisonnières desserviront également l'aéroport international King Hussein d'Aqaba (KHIA) – depuis Budapest, Bucarest, Vienne et Rome.
L'objectif principal du Jordan Tourism Board est de travailler sur un programme prioritaire pour 2021-2023 visant à attirer les touristes en soutenant les compagnies aériennes low-cost outre les vols charters. A cette fin, le Ministère a lancé en été un programme de subvention dans lequel tout passager charter séjournant plus d'une semaine est subventionné à hauteur d'environ 55 €.
---
Le festival de montgolfières apporte une nouvelle dynamique au « triangle d'or » de la Jordanie
La création cette année d'un festival de montgolfières à Wadi Rum va créer une nouvelle dynamique touristique dans la région.
Le premier événement de cinq jours de ce type vient d'être organisé, une bouffée d'air frais pour l'économie touristique du Royaume. Une initiative débutée par l'envol de ballons depuis le désert au lever du soleil et qui envahissaient le ciel – un spectacle décrit comme « fascinant ». Ce fut le premier de ce qui devrait être un événement annuel susceptible d'attirer une foule croissante dans les années à venir.
---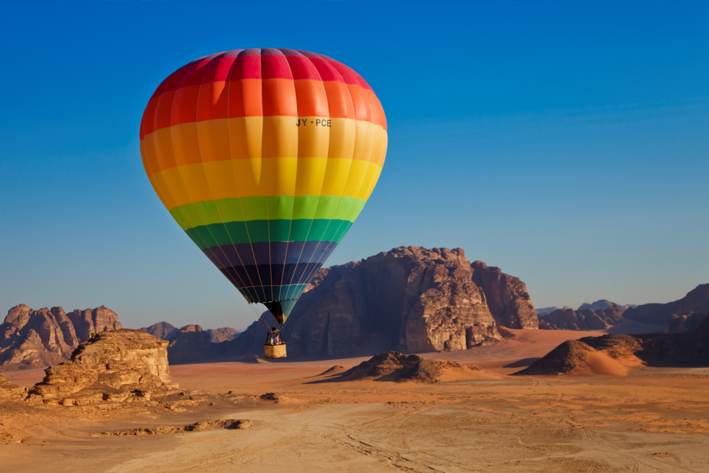 ---
Jordan Tourism Board back on the international scene at IFTM 2021
Exclusive Interview – H.E. Nayef Hmeidi Al-Fayez – Minister of Tourism and Antiquities, Jordan
Jordan Tourism Board has a major presence at IFTM Top Resa – as the first international trade show they have attended since the onset of the Covid crisis. Minister of Tourism and Antiquities, H.E. Nayef Hmeidi Al-Fayez is leading a large delegation – with a very clear message…

The most important thing is that we're back. On an official level we are here, but also with the private sector so that we can meet and get things moving as quickly as possible. We are ready to receive visitors from around the world. Since the middle of the year, people have started coming back. We have been opening gradually, and by the end of September, everything was back to normal – in the "new" normal. This is our first international appearance, so for us IFTM Top Resa is an important event. The message to the industry is that Jordan is back in business.

And France is a top priority for Jordan's tourism re-start. French nationals have been the highest consumers of the "Jordan Pass" in 2021, France thus having gained further importance as a leading source market for Jordan in the post-Covid world.

You had some great news this year with the UNESCO World Heritage listing of As-Salt. How important has this been in terms of creating a new dynamic?
It is very important, because As-Salt is the first city that has been listed. We have other sites that are UNESCO World Heritage, but this is the first liveable city that has been listed. It is not only due to the beauty of the city, but thanks to the culture of Jordan. So, it is very important for us.
What kinds of tourism are trending now?
The beauty of Jordan is that while it is geographically small, in terms of diversity, it is huge. It can be hard to find so much diversity even within a continent. This is a key advantage for the traveller. We don't want visitors just to come and see the beautiful Petra, or the thousands of archaeological sites. We want them to experience countless other things, such as our fabulous nature, wellness and leisure activities.

As you mentioned, this is the first time back at a live show. How has the reaction been to your presence at IFTM
Everyone in the tourism business is excited to be here, meeting face-to-face. We're fed up with Zoom, with online meetings and interviews. We want to see each other, to have the smile, to have the eye contact, the reactions. And it's important that it's the tourism industry is taking the lead, because the tourism industry is the bridge that brings people together. So far, it has been very positive. It has been busy, and that's a good message not only for this show, but for others to come also. Busy is good, but there is quality as well. People are serious here. They want to do business.
---
Wizz Air launches eight new routes to Jordan
The Minister of Tourism and Antiquities, HE Nayef Hmeidi Al-Fayez, announced during a press conference held on Sunday October 3rd, the conclusion of a new agreement between the Kingdom and the international low-cost airline Wizz Air, during which the airline plans to operate eight new routes into and from the Kingdom.
Flights will come from Budapest, Rome, Milan and Vienna into Queen Alia International Airport (QAIA). Meanwhile, four seasonal routes will serve to Aqaba's King Hussein International Airport (KHIA) – from Budapest, Bucharest, Vienna and Rome.
The Jordan Tourism Board's main goal is to work on a priority programme for 2021-2023 that aims to attract tourists through supporting low-cost airlines in addition to Charter flights. To that end, in the summer, the Ministry launched a subsidy programme under which any charter passenger staying for over a week is subsidised to the tune of around €55.
---
Hot air balloon festival brings new dynamic to Jordan's "golden triangle"
The creation this year of a hot air balloon festival in Wadi Rum is set to create a new tourism dynamic in the area.
The first five-day event of its kind has just been held, breathing fresh air into the Kingdom's tourism economy. It began with the balloons launching from the desert at sunrise and lining the sky – a sight described as "mesmerising". It's the first of what is set to be an annual event that will doubtless attract growing crowds in years to come.
---