La SNCF a le vent en poupe sur IFTM
Le bonheur de se retrouver sur le salon IFTM Top Resa est ce que ressent le plus Olivier Pinna, Directeur Entreprises et Agences de Voyage pour la SNCF Voyages. Un bonheur totalement partagé !
Durabilité, services, le tout mêlé à la joie de se revoir enfin sur IFTM Top Resa après un an et demi de crise. Voici les impressions qu'a ressenties Olivier Pinna, Directeur Entreprises et Agences de Voyage sur le stand SNCF du salon. D'autant que le produit "train" à le vent en poupe. Conversation sur l'avenir de l'offre ferroviaire…

Quels sont vos sentiments avec ce retour sur IFTM Top Resa ?
Je crois qu'on est tous très heureux et c'est un sentiment qui transparaît dans les allées et sur notre stand. Je crois qu'on est très content de se revoir et cela fait du bien. Ce salon tombe en fait au bon moment car on sent que l'activité repart. IFTM accompagne donc vraiment cette reprise.
La durabilité est une thématique essentielle. Comment communiquez-vous sur cette thématique au salon ?
On communique énormément sur la durabilité et l'aspect environnemental que représente bien naturellement le train. Notre stand avec nos commerciaux habillés de vert ou encore notre décoration le rappelle. Je sais que c'est une thématique générale pour la plupart des exposants présents ici. Mais un voyage en train est perçu de plus en plus comme LE moyen écologique par excellence. La pandémie a bien évidemment privilégié cette accélération. Je m'occupe aussi de la clientèle entreprises et c'est une réflexion que j'entends désormais souvent. Pour des voyages de moins de trois heures, les entreprises sont toujours plus nombreuses à plébisciter en effet le train.

Qu'est-ce qui a changé dans les demandes des professionnels qui viennent rendre visite à vos équipes sur le stand – notamment par rapport aux précédentes éditions d'IFTM ?
Je note que la sécurité sanitaire est une demande récurrente de nos visiteurs. C'est effectivement nouveau par rapport au passé. Le port du masque, le gel sanitaire, la désinfection des lieux de passage, tout cela est devenu un "must-do". Et bien entendu la préoccupation sur l'environnement à mettre à un même niveau que la sécurité sanitaire. Vient ensuite la demande d'un voyage optimisé. J'entends par cette notion la flexibilité dans l'achat d'un billet. C'est une notion que garantit désormais la SNCF. Tout comme le service, un élément essentiel de la conquête du voyageur.
---
Les services européens en vedette
Pour Olivier Pinna, il est important que la SNCF présente son offre internationale. "D'autant que la concurrence sur ce segment s'affirme de plus en plus et que la SNCF a les armes pour y faire face", indique-t-il. Sont ainsi présents sur IFTM les partenariats avec la DB, les CFF ou encore la RENFE. Une mise en valeur qui n'est pas fortuite. Alors que se déroule le salon, la SNCF a annoncé la reprise du projet de fusion entre Eurostar et Thalys. La marque Thalys disparaitra au profit d'Eurostar.
---
Une idée du service SNCF sur IFTM Top Resa
Sur IFTM, pour donner aux professionnels une idée du service SNCF, les équipes du transporteur ont reconstitué l'ambiance du salon Grands Voyageurs avec ses fauteuils ainsi que du nouvel espace bar dans les TGV. " On a aussi installé le trolley de la Business Premium qui sert à offrir un café et un en-cas à nos voyageurs. Ou également notre nouveau service de snacks commandés à l'avance sur notre application et apporté à la place du voyageur par nos barista", décrit Olivier Pinna.
---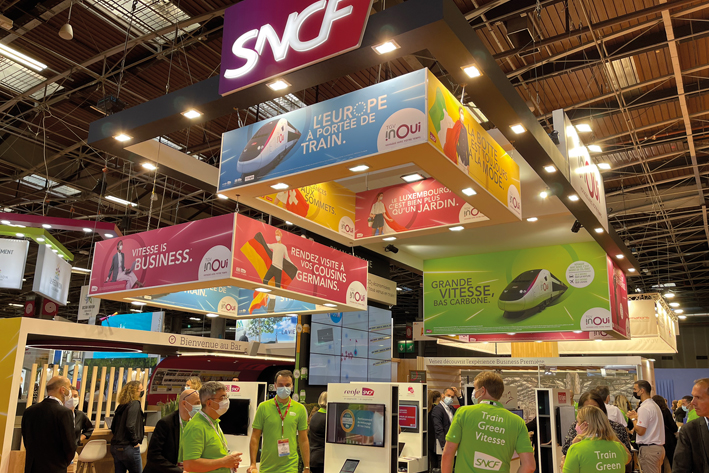 SNCF @ IFTM: Trains are all the rage!
The happiness of being at IFTM Top Resa… that's what Olivier Pinna, Director of Enterprise and Travel Agencies for SNCF Voyages feels the most… a happiness that's totally shared!

Sustainability, services, all mixed with the joy of finally seeing each other at IFTM Top Resa after a year and a half of crisis. Those are the impressions that Olivier Pinna, Director of Enterprise and Travel Agencies, felt at the SNCF booth of the show. Especially as trains, as a transport product, are increasingly "all the rage". We asked him to tell us a little more about how the show has been going.

We're all very happy, and it's a feeling that's reflected in the aisles and at our booth. We are very happy to see each other again and it feels good. This show actually comes at the right time, because we feel that the activity is starting again. So IFTM really accompanies this recovery.
The environment and sustainability are essential themes. How do you communicate on this at the show?
There's a lot of communication about sustainability and the environmental aspect of trains, of course. Our stand with our sales people dressed in green or our decoration reminds us of this. I know it's a general theme for most of the exhibitors here. But a train journey is perceived more and more as the ecological transport means par excellence. The pandemic has obviously favoured this acceleration. I also deal with corporate clients, and I hear that a lot now. For trips of less than three hours, an increasing number of agencies vote for the train.

What has changed when it comes to the demands of the professionals who come to visit your teams at the stand – especially compared to previous editions of IFTM?
I note that health security is a recurring demand of our visitors. It is indeed new compared to the past. The wearing of the mask, the health gel, the disinfection of passage ways; all this has become a "must-do". And, of course, the concern about the environment is placed at the same level as health security. Next is the demand for optimised travel; I mean flexibility in buying a ticket. This is a concept that the SNCF now guarantees. Just like the service, an essential element in the conquest of the traveller.
---
European routes under the spotlight
For Olivier Pinna, it is important for SNCF to present its international offer. "Especially since competition in this segment is growing and SNCF has the weapons to deal with it," he says. Partnerships with DB, SBB and RENFE are present at IFTM – a development that is not by chance. As the show unfolds, SNCF has announced the revival of a merger project between Eurostar and Thalys. The Thalys brand will disappear in favour of Eurostar.
---
A demonstration of SNCF service @ IFTM Top Resa
To give professionals an idea of the kind of service SNCF provides, the carrier's teams recreated at IFTM the atmosphere of the "Grands Voyageurs" lounge with its armchairs and the new bar area in the high-speed trains. "We also installed the Business Premium trolley, which serves as a coffee and snack bar for our travellers… or also our new snack service, with orders placed in advance on our app, and brought to the traveller's place by our barista", explains Mr Pinna.
---