L'Italie – toujours plus dédiée au tourisme durable
Le tourisme actif et la biodiversité au cœur de l'offre de l'Italie sur IFTM Top Resa
L'Italie reste un des pays préférés des professionnels du voyage sur IFTM Top Resa. Quelles sont les tendances dans la nouvelle "normalité", et quelle "vision du tourisme" pour l'avenir ? Nous avons posé la question à la directrice du marketing et de la promotion de l'ENIT, Maria Elena Rossi.

Définir l'offre pour maintenir l'attrait de nos destinations, même pendant les périodes moins fréquentées par les touristes, est crucial. Nous valorisons le patrimoine culturel et d'hébergement existant, notamment par l'utilisation de biens immobiliers de valeur historique et artistique. L'ENIT cherche ainsi à conclure des protocoles d'accord par des synergies avec tous les organismes et acteurs du secteur. L'objectif est de faciliter les déplacements et d'aborder les différents thèmes avec une approche innovante et hypertechnologique. Nous pensons que cela garantira la confiance des voyageurs et accélérera la définition de l'offre de tourisme durable en favorisant le tourisme actif et la biodiversité.

Quel segment touristique a connu le plus de succès ?
Le tourisme de plein air a connu récemment une transformation rapide. Il est aujourd'hui bien plus en mesure de permettre des vacances de meilleure qualité. Les choix et les caractéristiques des séjours évoluent aussi. Les vacanciers sont désormais à la recherche de durabilité et d'une nouvelle relation avec la nature. Le séjour doit être actif, et les formes de bien-être psychologique et physique sont au cœur de tout. Pour cette raison, l'Italie, avec ses régions intérieures, ses villages, sa mer, sa culture, sa gastronomie et son vin, représente un modèle gagnant.
Qu'est-ce qui est différent dans la manière dont l'ENIT promeut l'Italie aujourd'hui par rapport à avant la crise du COVID ?
Bon nombre des priorités et des thèmes qui ont émergé avec la pandémie avaient déjà été pris en compte dans les plans de l'ENIT depuis un certain temps. Nous pensions déjà à la durabilité et à la numérisation, ainsi qu'à l'analyse des big data. Le Covid a accéléré certaines tendances, conduisant naturellement à un tourisme responsable, à une répartition plus équilibrée des flux sur les différentes périodes de l'année, à une valorisation des expériences de vacances et des zones moins connues des grandes villes.

L'Italie a connu une croissance rapide du tourisme de luxe ces dernières années. Comment ce secteur évolue-t-il ?
Le tourisme de luxe en Italie représente 25 milliards d'euros, avec un potentiel pour atteindre 60-100 milliards d'euros uniquement sur la consommation directe. Les estimations se fondent sur la capacité d'attirer un plus grand nombre de touristes haut de gamme (actuellement, le ratio n'est que de 3 sur 10), un plus grand nombre de touristes millionnaires chinois (environ 80 % d'entre eux ne sont jamais allés en Italie) et la participation de l'élite des touristes italiens qui choisissent actuellement des destinations étrangères (1-3 millions de voyages).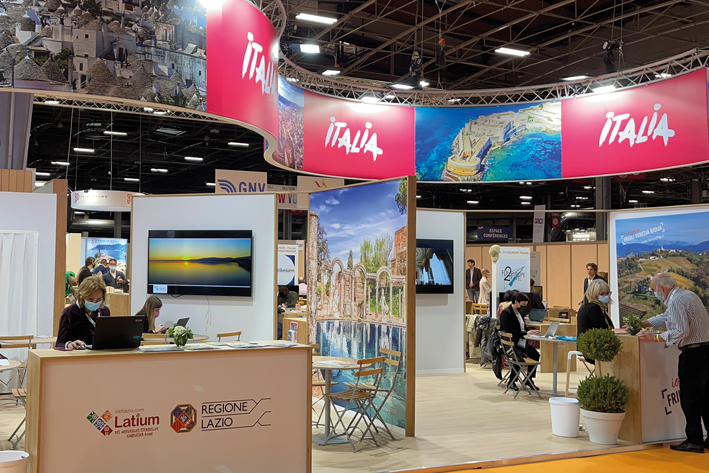 Italy – ever more dedicated to sustainable tourism
Active tourism and biodiversity at the heart of Italy's offering at IFTM Top Resa
Italy is always a favourite among travel professionals attending IFTM Top Resa. But what is trending as the world heads into a "new normal", and what is the "tourism vision" for years to come? We put the question to ENIT's Director of Marketing and Promotion, Maria Elena Rossi.

Defining the offer to ensure our destinations remain attractive, even during the periods when they are less frequented by tourists, is crucial. We aim to enhance the value of the existing cultural and accommodation heritage, including through the use of real estate of historical and artistic value for tourism purposes. ENIT is pursuing memoranda of understanding through synergies with all bodies and stakeholders operating in the sector. The aim is to make travelling easier, and to approach the various themes with an innovative and hyper-technological slant. We believe this will guarantee peace of mind for travellers and speed up the definition of the sustainable tourism offer by promoting active tourism and biodiversity.

What kind of tourism has been most successful?
In recent years, open-air tourism has undergone a rapid transformation and is now even more capable of allowing for holidays of the highest quality. This is what foreign tourists from nearby countries enjoy the most. The choices and characteristics of stays are changing. Holidaymakers are now looking for sustainability and a new relationship with nature. The stay must be active, and psychological and physical forms of wellbeing are at the heart of everything. For this reason, Italy, with its inland areas, villages, sea, culture, food and wine, represents a winning model.
What is different about the way ENIT is promoting Italy now, compared to before the COVID crisis?
Many of the priorities and themes that emerged with the pandemic had already been reflected in ENIT's plans for some time. We were already thinking about sustainability and digitisation as well as big data analysis. Covid has accelerated some of the trends, leading naturally towards responsible tourism, a more even distribution of flows over different periods of the year, an appreciation of holiday experiences and of the lesser-known areas of large cities.

Italy has witnessed a rapid growth in luxury tourism in recent years. How is this sector progressing?
Luxury tourism in Italy is worth €25bn, with all the potential to reach €60–100bn in direct consumption alone. The estimates are based on the ability to attract a higher number of upmarket tourists (currently, Italy intercepts only 3 out of 10), a higher number of Chinese millionaire tourists (approximately 80% have never been to Italy) and the involvement of elite Italian tourists who currently choose foreign destinations (1–3 million trips).