Développement durable, numérisation et intégration : éléments clés de la promotion de l'Italie
Interview exclusive: Giorgio Palmucci, Président, ENIT, Office National Italien de Tourisme
L'Italie a de nouveau une présence importante cette année sur IFTM Top Resa. Nous avons demandé au président de l'ENIT, Giorgio Palmucci, de nous en dire plus.

Le tourisme évolue, mais pas en visant uniquement une expansion : il traverse une période de profonds changements. Il y a depuis un certain temps au sein de l'ENIT certaines questions, telles que la durabilité, la numérisation et l'intégration, qui représentent non seulement une implication croissante de toutes les parties prenantes, mais surtout une forme de tourisme toujours plus inclusive. Quelque soit d'ailleurs la manière dont on le regarde. Nous discuterons de ces grands thèmes avec de nouveaux objectifs de mise en valeur et de développement des villes d'art et de tourisme culturel qui représentent l'expression la plus tangible de "l'Italianité".

À votre avis, quels sont vos plus grands défis en matière de promotion ?
Le premier défi est l'organisation, la cohésion et une homogénéité de notre direction. Il nous faut voyager à l'unisson et être coordonnés. Le deuxième aspect est qualitatif : la création et la mise en oeuvre d'un système visent aussi un plus grand professionnalisme et la formation. Le troisième est l'infrastructure pour laquelle il faut intervenir de plus en plus.

Pensez-vous que les principaux « atouts touristiques » de l'Italie seront perçus différemment après la crise de la COVID-19 ?
Un nouveau "système de communauté touristique" se développe grâce au partage des expériences de voyage. Les itinéraires du tourisme durable et de l'innovation numérique mettent en lumière des façons plus éthiques de faire des affaires, dans le but d'enrichir la société et ses valeurs fondamentales. Les besoins des nouveaux touristes visent de plus en plus des espaces ouverts, peu fréquentés, dans lesquels ils peuvent renouer le contact avec un environnement naturel. Cela implique aussi la quête d'hébergements qui respectent la nature et s'engagent à ce changement de paradigme que nous exigeons face aux transformations climatiques. Nous devons donc être prudents dans la gestion du "produit" touristique et faire le meilleur usage des outils sociaux pour faire comprendre aux clients que l'activité hôtelière se poursuit avec des pratiques saines, tant qu'elle est menée avec équilibre et organisation, en évitant l'improvisation. Il est temps de maintenir et de consolider la relation avec les clients, de mettre à jour les bases de données, de raconter une histoire tout en assurant la protection de la marque et en les orientant vers l'innovation.
L'urgence sanitaire a changé les comportements touristiques avec une augmentation significative des réservations pour des dates bien délimitées et une augmentation marquée des réservations via les canaux numériques directs. En ce moment, ce qui compte plus que les chiffres eux-mêmes, c'est le "sentiment italien", la perception et le désir de la Péninsule qui reste toujours fort au niveau international.
---
Présence massive de l'Italie à IFTM Top Resa
Le Stand "ITALIA" est l'un des plus importants parmi les destinations européennes à IFTM 2021 avec plus de 300 m2. Il accueille quatre grandes régions italiennes : la Sicile, le Latium, la Lombardie -notamment la Province de Brescia- et enfin, le Frioul Vénétie-Julienne. Les visiteurs y trouvent une quarantaine d'opérateurs touristiques (TO, réceptifs, hôtels et structures réceptives, loueurs de voitures, associations…) dont les offres concernent les régions présentes mais aussi l'ensemble de la destination Italie.
Au-delà de leurs capitales de renom, Milan résolument mode et design, Rome antique et contemporaine, Trieste multiculturelle et littéraire et Palerme sublime dans son style arabo-normand, c'est toute la richesse et la variété des offres de ces régions et des professionnels que l'industrie touristique française découvre à IFTM.
---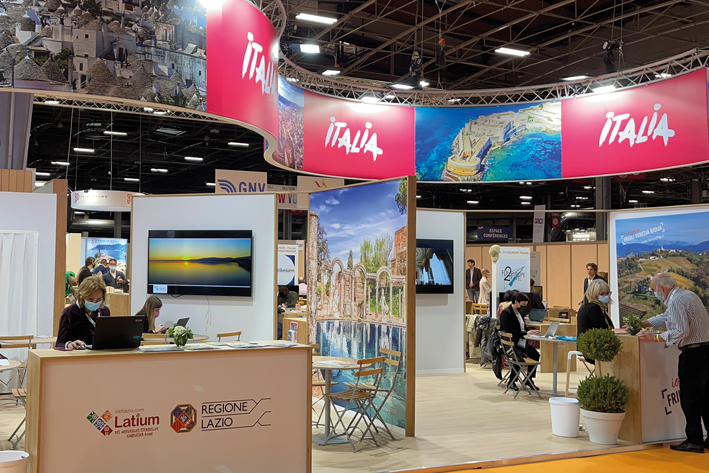 Sustainability, digitisation and integration: key elements of Italy's promotion
Exclusive interview: Giorgio Palmucci, President, ENIT, Italian National Tourist Board
Italy again has a major presence this year at IFTM Top Resa. We asked ENIT President Giorgio Palmucci to tell us more.

Tourism is evolving, but not only in the sense of expansion: it is going through a period of profound change. Some issues that have been close to ENIT's heart for some time now remain steadfast, such as sustainability, digitisation and integration which represent not only an ever-increasing involvement of all stakeholders but above all a form of tourism that is ever more inclusive, however one looks at it. We will discuss these major themes together with the new objectives of enhancement and development of the cities of art and cultural tourism which represent the most tangible expression of "Italianness".

What do you consider your biggest challenges when it comes to promoting the country?
The first challenge is organisational, involving cohesion and directional homogeneity. It is necessary to travel in unison and to be coordinated. The second is qualitative: creating and implementing a system is something that also looks to the advancement of professionalism and training. The third is infrastructural for which more and more intervention is required.
When it comes to the main Italian "tourism assets", do you think these will be seen in a different light after the Covid crisis?
A new "tourist community system" is evolving, thanks to the sharing of the travel experience. The routes of sustainable tourism and digital innovation are shedding light on more ethical ways of doing business, with the aim of enriching society and its fundamental values. The needs of new tourists are increasingly aimed at open, uncrowded spaces, in which they can regain contact with the natural environment, but also in search of accommodation facilities that respect nature and are committed to that paradigm shift that is required of us due to climatic changes. We must therefore be cautious in managing the tourism "product" and make the best use of social tools to make customers understand that the hospitality business continues according to good practices, as long as it is conducted with balance and organisation, avoiding improvisation. It is time to maintain and consolidate the relationship with customers, update databases and engage in storytelling, performing brand protection as well as directing brands towards innovation.
The health emergency has changed tourist behaviours with a significant increase in bookings for specific dates and with a marked increase in bookings through direct digital channels. At the moment, what counts more than the figures themselves is the "Italian feeling", the perception of and desire for the peninsula that has always remained strong at an international level.
---
Massive presence of Italy at IFTM Top Resa
The "Italia" stand is one of the most important among the European destinations at IFTM 2021 with more than 300 sq m. It hosts four major Italian regions: Sicily, Lazio, Lombardy – in particular the Province of Brescia – and finally, Friuli Venezia-Giulia. Visitors will find around 40 tourist operators (TOs, receptives, hotels and receptive structures, car rental companies, associations, etc.) whose offers concern the regions present but also the entire destination of Italy.
Beyond their renowned capitals, Milan – resolutely fashion and design, ancient and contemporary Rome, multicultural and literary Trieste, and Palermo – sublime in its Arabo-Normand style… it is all the wealth and variety of offers from these regions and professionals that the French tourism industry is able to discover at IFTM.
---