Air France et IFTM Top Resa : une histoire qui dure
La compagnie a annoncé son programme d'hiver et s'est félicitée de la dynamique du salon IFTM
La tradition a du bon! Partenaire de toujours du salon IFTM Top Resa, Air France est présent au coeur du salon avec ses partenaires aériens KLM, Delta Air Lines et Transavia.

Et le salon est aussi l'occasion pour la compagnie de présenter ses perspectives de trafic sur les prochains mois. "Ce salon a un goût de la vie d'avant. Et nous sommes heureux d'en faire partie", a décrit Henri de Peyrelongue, Directeur Général Commercial Ventes Air France-KLM. "La croissance d'Air France se fait d'ailleurs autour de deux signes forts: le client et le développement durable. Ce qui s'exprime par une offre d'un voyage sûr, flexible, confortable pour le client avec un nombre de destinations élargi", poursuit-il.

Symbole de cette alliance entre client et durabilité pour Henri de Peyrelongue : l'arrivée de l'Airbus A220 qui offre un confort supérieur et permet de réduire l'empreinte carbone de la compagnie de 20% par rapport à d'autres avions.

Cette stratégie porte ainsi ses fruits. Air France vient d'être nommée meilleure compagnie européenne dans le classement Skytrax.

Côté développement du réseau, Henri Hourcade, directeur général France Air France-KLM évoque l'agilité de la compagnie, qui passe par un développement sur des destinations de loisirs. Le réseau d'hiver inclut ainsi des vols long-courrier soleil. "C'est Zanzibar, Mascate, Colombo et Maputo au Mozambique tandis que KLM desservira Port of Spain, Cancun et La Barbade", a précisé Henri Hourcade.
STAND 1-K61
---
Nouvelles destinations court-courrier
Air France ne reste pas inactive sur les lignes court-courrier. La compagnie annonce l'ouverture pour la saison d'hiver, à partir du 31 octobre, de vols directs vers Alger, Berlin et Munich au départ d'Orly. Quant aux destinations en Méditerrannée, Air France concentrera son offre sur l'Espagne avec des liaisons vers Malaga, Ténérife et Valencia. Outre un vol au départ de CDG pour la Laponie finlandaise avec Rovaniemi.
---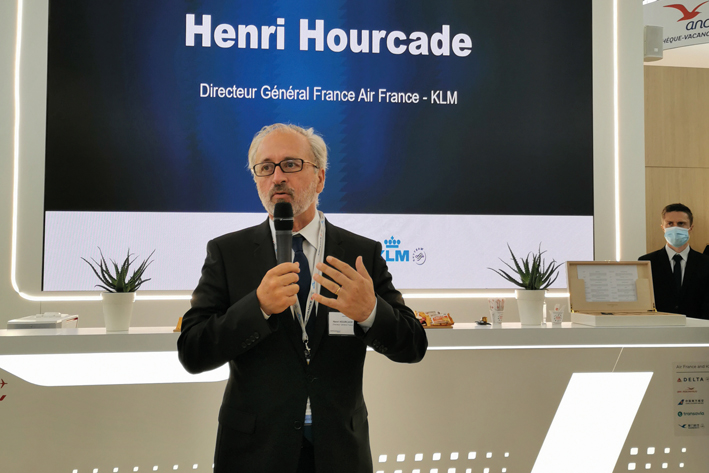 Air France and IFTM Top Resa: a lasting story
The airline announces its winter programme and welcomes the dynamic of the IFTM show
Tradition is a good thing! Air France is still a partner of IFTM Top Resa show and is present at the heart of the fair with its air partners KLM, Delta Air Lines and Transavia.

And the show is also an opportunity for the company to present its traffic outlook over the coming months.
"This show has a taste of life as it was before. And we are happy to be a part of it", said Henri de Peyrelongue, Managing Director Commercial Sales Air France-KLM. "Air France's growth is based on two strong signs: the customer and sustainable development. This translates into a safe, flexible and comfortable travel offer for the customer with a wider range of destinations."

Symbol of this alliance between customer and sustainability for Henri de Peyrelongue: the arrival of the Airbus A220 which offers superior comfort and reduces the company's carbon footprint by 20% compared to other aircraft.

This strategy is bearing fruit. Air France has just been named the best European airline in the Skytrax ranking.
In terms of network development, Henri Hourcade, Managing Director of France Air France-KLM, evokes the agility of the company, which requires a development on leisure destinations. The winter network thus includes long-haul leisure flights to Zanzibar, Muscat, Colombo and Maputo in Mozambique while KLM will serve Port of Spain, Cancun and Barbados", said Henri Hourcade.
STAND 1-K61
---
New short-haul destinations
Air France is not remaining inactive on short-haul routes. The airline has announced the opening of direct flights to Algiers, Berlin and Munich from Orly for the winter season from October 31. As for destinations in the Mediterranean, Air France will focus on Spain with connections to Malaga, Tenerife and Valencia. And Rovaniemi in Finnish Lapland can be directly reached from CDG.