La durabilité plus que jamais au cœur de l'offre de la Guyane
PUBLIREPORTAGE
IFTM Top Resa 2023 est l'occasion de rencontrer les représentants du Comité du Tourisme de la Guyane et de ses partenaires. Avec une offre toujours plus tournée vers la durabilité et le respect du territoire.
Outre le Comité du Tourisme de Guyane, le stand à IFTM accueille le réceptif Guyane Évasion, le Mercure Cayenne Royal Amazonia, le Grand Hôtel Montabo, l'Hôtel des Roches et l'Auberge des îles du Salut. L'occasion aussi de présenter les grands événements programmés en 2024 : le lancement de la fusée Ariane 6 et le passage de la flamme olympique.
Le Comité du Tourisme de la Guyane souhaite aussi concrétiser de nouvelles programmations plus respectueuses du territoire, des habitants et de la biodiversité. "Nous avons à cœur de structurer la filière touristique et développer des produits dans un respect de valorisation de la richesse de notre patrimoine, de sa biodiversité et des trésors culturels des communautés", explique Jean-Luc Le West, Président du Comité du Tourisme de la Guyane.
Côté animation, le stand offre une expérience immersive amazonienne dans une bulle sensorielle. La gastronomie est également présente avec des petits-déjeuners créoles, ainsi que des cocktails à base de produits locaux préparés par une mixologue renommée. Le carnaval guyanais est aussi évoqué à travers deux personnages emblématiques, Touloulou et Tololo.
"Notre participation à IFTM Top Resa s'inscrit dans notre plan d'actions de promotion. À nous de démontrer une fois de plus que la Destination Guyane est bien loin de ses clichés et plus qu'une simple aventure exotique. Elle incarne une véritable alternative pour les voyageurs en quête d'expériences de découvertes tournées vers le tourisme durable", explique Jean-Luc Le West.
STAND B 036
Photo header : © 2019 ESA-CNES / ARIANESPACE / Optique video du CSG-SMARTIN
---
Une offre touristique toujours plus riche
La Guyane touristique s'active ! La Collectivité Territoriale de Guyane (CTG), le Comité du Tourisme et des acteurs locaux travaillent ainsi à créer l'Office du Carnaval Péyi Guyane, chargé de commercialiser des produits touristiques autour de cet événement annuel phare du territoire.
Un appel à projets d'hébergements touristiques a été lancé par la CTG concernant l'offre d'hébergement du territoire. Avec l'objectif d'accroître la qualité d'accueil, une montée en gamme et un développement plus durable. Enfin dans l'Ouest-Guyanais, les autorités travaillent à un projet slow tourisme, comprenant des campements touristiques forestiers, une réhabilitation du village de l'Acarouany et le lancement de produits équestres à Mana.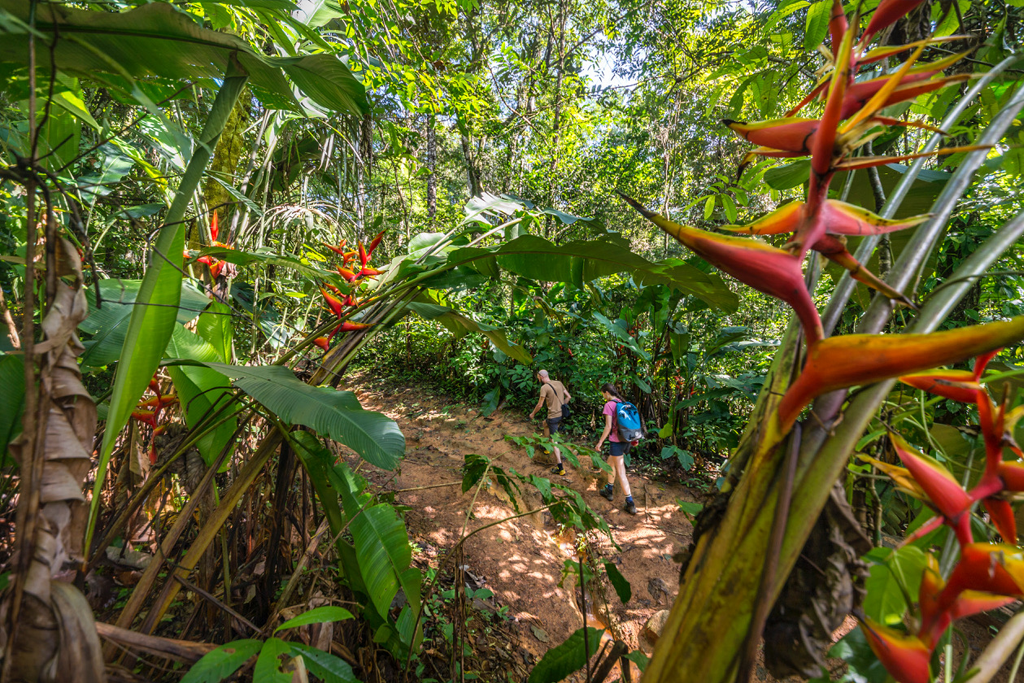 Sustainability is more than ever at the heart of French Guiana's offer at IFTM Top Resa
ADVERTORIAL
IFTM Top Resa is an opportunity to meet the French Guiana Tourism Commitee and its partners, and to learn about an offer that is increasingly focused on sustainability and respect for the territory.
In addition to the French Guiana Tourism Commitee, the booth at IFTM is hosting Guyane Évasion, the Mercure Cayenne Royal Amazonia, the Grand Hôtel Montabo, the Hôtel des Roches and the Auberge des îles du Salut. It is also an opportunity to present the major events for 2024, including the launch of the Ariane 6 rocket and the passing of the Olympic torch.
The French Guiana Tourism Board also wants to develop new programmes that are more respectful of the region, its inhabitants and its biodiversity. "We are committed to structuring the tourism industry and developing products that promote the richness of our heritage, its biodiversity and the cultural treasures of our communities," tells Jean-Luc Le West, Chairman of the Guyane Tourism Commitee.
Among activities at the show, French Guiana is offering an immersive Amazonian experience in a sensory bubble. Gastronomy is also highlighted, with Creole breakfasts and cocktails made with local products prepared by a renowned mixologist. French Guiana's carnival is also evoked through 2 emblematic characters, Touloulou and Tololo.
"Our participation in IFTM Top Resa is part of our promotional action plan. It's up to us to demonstrate once again that the destination of French Guiana is far from cliché and more than just an exotic adventure. It represents a real alternative for travellers looking for discovery experiences based on sustainable tourism," highlights Le West.
STAND B 036
Photo (header): © 2019 ESA-CNES / ARIANESPACE / Optique video du CSG-SMARTIN
---
An ever-expanding range of tourist attractions
Tourism in French Guiana is buzzing! The Collectivité Territoriale de Guyane (CTG), the Tourism Commitee and local players are working to create the "Office du Carnaval Péyi Guyane", responsible for marketing tourism products based around the region's flagship annual event.
A call for tourist accommodation projects has been launched by the CTG targeting the region's accommodation offer. The aim is to improve the quality of the welcome, move upmarket and promote more sustainable development. Finally, in the west part of the territory, authorities are working on a slow tourism project, including forest tourism camps, the rehabilitation of Acarouany village and the launch of equestrian products in Mana.