Air Austral met en valeur son identité réunionnaise à IFTM Top Resa
PUBLIREPORTAGE
Monter à bord d'un avion Air Austral, c'est déjà se sentir dans l'océan Indien, à La Réunion comme dans les îles voisines.
Air Austral propose un large choix de destinations dans l'océan Indien. La compagnie réunionnaise dessert notamment, depuis la France hexagonale, La Réunion et Mayotte en vols directs, 7 destinations à Madagascar (Tana, Nosy Be, Tamatave, Diego, Tuléar, Fort-Dauphin et Majunga) et l'île Maurice via La Réunion.
A bord, la compagnie est l'ambassadrice de la culture et de l'hospitalité réunionnaises. Accueil chaleureux, confort, qualité de service, design, chaîne musicale, gastronomie : tout est fait pour refléter la convivialité réunionnaise. La compagnie collabore avec des chefs locaux renommés pour proposer des menus mettant en valeur la cuisine réunionnaise : saveurs locales, épices exotiques et ingrédients frais de l'île. En Classe Club Austral, en précommande en Classe Confort et dans la gamme Extra Repas en Classe Loisirs, les passagers peuvent découvrir la cuisine de Kelly Rangama, cheffe réunionnaise étoilée.
Air Austral, qui a obtenu le label RSE "Efficience", s'inscrit dans une démarche de compagnie citoyenne et écoresponsable avec différentes actions limitant ses émissions de CO2. Elle exploite ainsi 2 appareils de dernière génération Boeing 787- 8 et 3 Airbus A220-300, ces derniers réduisant de 25% les émissions de gaz à effet de serre. Elle applique des techniques d'éco-pilotage des avions et a recours au départ de Paris à l'utilisation de SAF (sustainable alternative fuel) à hauteur de 2%. Les services d'assistances en escale, d'opérations aériennes et les pilotes travaillent sur des procédures consommant moins de kérosène. En 2019, Air Austral a mis fin au plastique à usage unique à bord de ses appareils en proposant des alternatives durables, recyclables, réutilisables ou biodégradables. Air Austral s'est par ailleurs doté d'un service dédié à la gestion des déchets.
A court terme, la compagnie se concentre sur la consolidation de son réseau actuel, l'efficacité des correspondances et l'amélioration de l'expérience voyageur. A l'horizon 2027-28, Air Austral prévoit de renouveler entièrement sa flotte long-courrier pour une flotte encore plus moderne et éco-efficace.
---
STAND P 078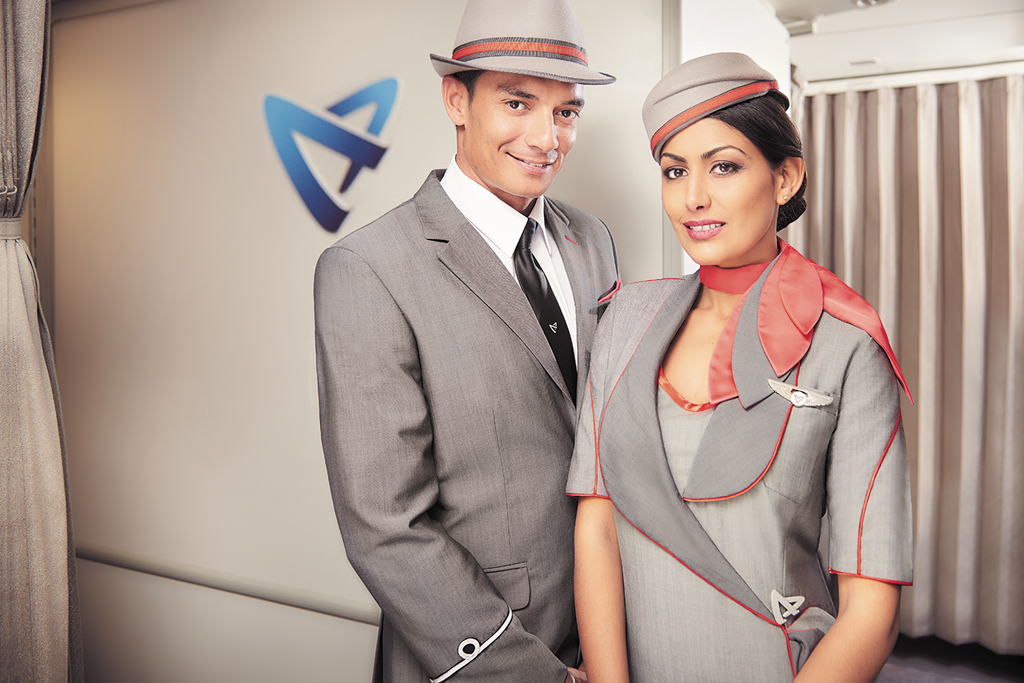 ADVERTORIAL
Air Austral highlights its Reunion Island identity at IFTM Top Resa
Passengers stepping on board an Air Austral aircraft will already feel like they have been transported to the Indian Ocean, whether it be Reunion Island or one of the neighbouring islands.
Air Austral offers a wide choice of destinations in the Indian Ocean. The Reunion Island-based airline offers direct flights from mainland France to Reunion Island and Mayotte, 7 destinations in Madagascar (Tana, Nosy Be, Tamatave, Diego, Tuléar, Fort-Dauphin and Majunga) and Mauritius via Reunion Island.
On board, the company is the ambassador of Reunion Island culture and hospitality. A warm welcome, comfort, quality of service, design, music, gastronomy: everything is done to reflect Reunion's conviviality. The airline works with renowned local chefs to offer menus that showcase Reunion Island cuisine: local flavours, exotic spices and fresh ingredients from the island. In Club Austral Class, on pre-order in Comfort Class and in the Extra Meals range in Leisure Class, passengers can discover the cuisine of Kelly Rangama, a Michelin-starred chef from Reunion Island.
Air Austral, which has been awarded the "Efficiency" CSR label, is committed to being a socially responsible and eco-responsible airline, with a number of initiatives to limit its CO2 emissions. It operates 2 latest-generation Boeing 787-8 aircraft and 3 Airbus A220-300s, the latter reducing greenhouse gas emissions by 25%. It applies eco-piloting techniques to its aircraft and uses 2% SAF (sustainable alternative fuel) on departures from Paris. Ground handling services, flight operations and pilots are working on procedures that consume less paraffin. In 2019, Air Austral put an end to single-use plastic on board its aircraft by offering sustainable, recyclable, reusable or biodegradable alternatives. Air Austral has also set up a dedicated waste management department.
In the short term, the airline is focusing on consolidating its current network, making connections more efficient and improving the passenger experience. By 2027-28, Air Austral plans to completely renew its long-haul fleet, making it even more modern and eco-efficient.
STAND P 078