IFTM Jour 3 : L'Innovation et la responsabilité à l'honneur
Quelle effervescence lors de la deuxième journée d'IFTM ! Les conférences étaient pleines à craquer, témoignant de l'intérêt grandissant pour les sujets abordés. L'ambiance de business était tout simplement incroyable, avec des échanges fructueux et des collaborations naissantes à chaque coin du salon.
Mais la découverte ne s'arrête pas là. Aujourd'hui, nous plongerons dans le monde fascinant de l'intelligence artificielle avec une conférence à 12h30 qui promet de dévoiler les opportunités qu'elle offre au secteur du tourisme. L'espace tourisme responsable sera également à l'honneur avec, notamment, la conférence "Croisière et Tourisme responsable entre espoir et difficultés" à 11h. Ces échanges promettent d'être riches en réflexions et en solutions pour un tourisme plus durable.
L'après-midi sera marqué par la compétition avec la finale de la Travel Agent Cup Junior à partir de 13h30, suivie de la grande finale de la Travel Agent Cup à 15h30. Ces événements mettront en lumière les talents de notre industrie et promettent des moments intenses et passionnants.
Et pour clôturer cette journée en beauté, il y aura la soirée IFTM TourMag Party, à partir de 19h00 au Terminal 7 de Paris Expo Porte de Versailles. Une occasion unique de se détendre, de réseauter et de célébrer ensemble les réussites de cette édition d'IFTM Top Resa.
Préparez-vous pour une journée riche en émotions, en découvertes et en rencontres. À très vite dans les allées d'IFTM !
---
Salut à Jean-Pierre Mas, icône du voyage
Lors du cocktail inaugural d'IFTM, un moment fort a retenu l'attention de tous : l'hommage vibrant rendu à Jean-Pierre Mas. En quittant la présidence de l'EdV, il laisse derrière lui une empreinte indélébile dans le monde du tourisme. Sa passion et son dévouement ont marqué des générations. Un livre d'or est disponible à l'Arena jusqu'à la fin du salon pour tous ceux qui aimeraient lui laisser un témoignage écrit de leur reconnaissance ou tout simplement de leur amitié.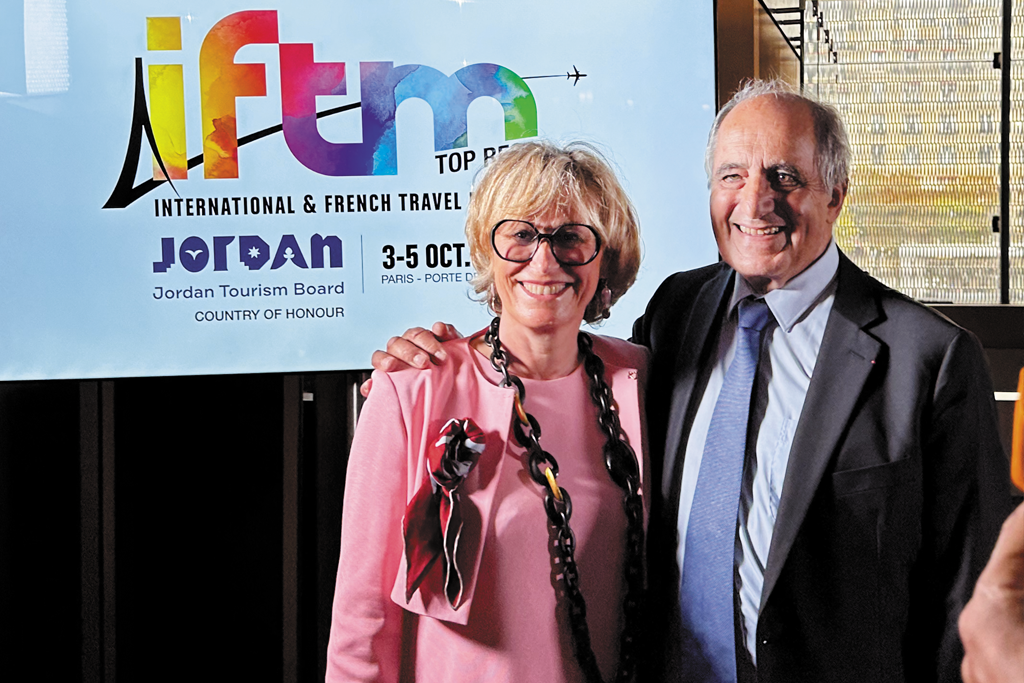 ---
IFTM Day 3: Innovation and sustainability take centre stage
What a buzz there is in the air on this second day of IFTM! The conferences were packed to the rafters, testifying to the growing interest in the subjects covered. The business atmosphere was simply incredible, with fruitful conversations and budding collaborations in every corner of the show.
But the time for discovery is far from over. Today, we'll be diving into the fascinating world of artificial intelligence with a conference at 12:30p.m. that promises to unveil the opportunities it offers the tourism sector. Sustainable tourism will also be in the spotlight, with a conference entitled "Cruises and sustainable tourism: between hope and difficulties" at 11:00a.m.. These discussions promise to be rich in ideas and solutions for more sustainable tourism.
The afternoon will be marked by competition, with the Travel Agent Cup Junior final starting at 1:30p.m., followed by the Travel Agent Cup Grand Final at 3:30p.m. These events will showcase the talent in our industry and promise to be intense and exciting.
And to round the day off in style, there will be the IFTM TourMag Party, starting at 7:00p.m. in Terminal 7 of Paris Expo Porte de Versailles. A unique opportunity to relax, network and celebrate together the successes of this edition of IFTM Top Resa.
Get ready for a day full of emotions, discoveries and encounters. See you soon in the aisles of IFTM!
---
A tribute to Jean-Pierre Mas, travel icon
At the inaugural IFTM cocktail party, one highlight caught everyone's attention: the vibrant tribute paid to Jean-Pierre Mas. In stepping down as President of the EdV, he leaves behind him an indelible mark on the world of tourism. His passion and dedication have marked generations. A guest book is available in the Arena area for anyone who would like to leave him a written tribute of their respect and friendship.