Les belles rencontres muséales de Paris
Trésors du Moyen Age, de Dior ou de la Bibliothèque nationale : telles sont les nouveautés 2022 des musées parisiens.
Paris confirme plus que jamais son rôle de capitale culturelle avec trois nouveaux musées ouverts en 2022.

En mai dernier, le Musée de Cluny, musée national du Moyen Age, a rouvert ses portes. Le bâtiment, qui intègre un hôtel particulier du 15e siècle et les anciens thermes romains, offre une plongée dans un monde médiéval raffiné de sculptures, de bijoux et de sublimes tapisseries de la Dame à la Licorne.

Adjacente à la maison de couture historique, avenue Montaigne, la Galerie Dior propose un parcours éblouissant par sa mise en scène de l'histoire de la Maison Dior et des créations du maître et de ses six successeurs.

Ouvert en septembre, le site Richelieu de la Bibliothèque nationale de France accueille le public après plus de 10 années de transformation. Le public accède gratuitement à la salle Ovale, joyau architectural, et peut s'émerveiller devant les 900 œuvres d'art, de l'Antiquité à nos jours.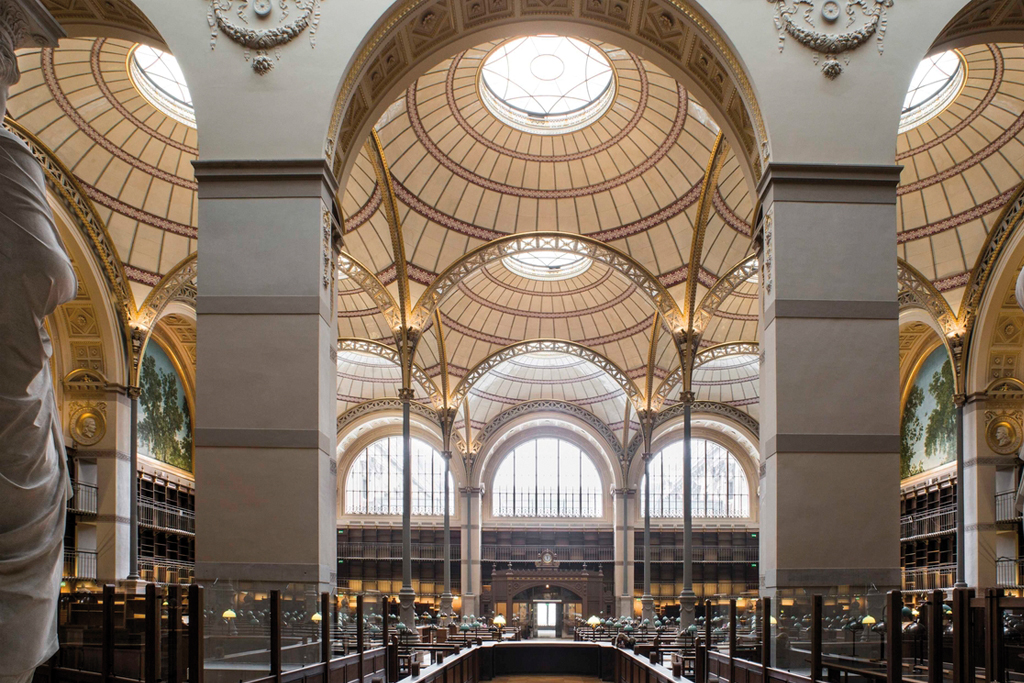 ---
Paris' stunning museums encounters
Treasures from the Middle Ages, Dior and the National Library. These are Paris museums' newest developments in 2022.
Paris has more than ever confirmed its role as a cultural capital with three museums' opening in 2022. Last May, the Musée de Cluny, the national museum of the Middle Ages, reopened its doors. The building, which incorporates a 15th-century mansion and former Roman baths, plunges visitors into a refined medieval world of sculptures, jewels and sublime tapestries depicting the Lady of the Unicorn.

Adjacent to the historic fashion house on Avenue Montaigne, the Dior Gallery offers a dazzling journey through the history of the fashion house Dior and the creations of the master couturier and his six successors.

Opened in September, the Richelieu site of the Bibliothèque nationale de France, is welcoming the public after undergoing renovations for over 10 years. The public has free access to the architectural gem Oval Room. They can also marvel at the 900 works of art, from antiquity to the present day, in the new BnF museum.